Brick Challenge
A downloadable Arkanoid for Windows
About
Arkanoid with procedurally generated levels and gradually raising difficulty.
Some features like game modes and special Ball Powers are unlockable.
Complete feature list
3 Game Modes (with normal and hard difficulties)
3 Ball Powers
High replayability due to procedurally generated levels and random aspect
Details
Modes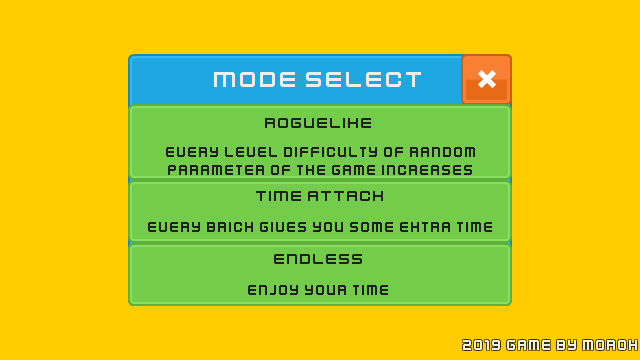 Roguelike
After completion of each level, one of six difficulty parameters will increase.
Complete 10 levels to unlock Time Attack Mode!
Time Attack
You are short on time! Break bricks to gain extra seconds!
Complete 10 levels to unlock Endless Mode!
Endless
No level or time limits.
Complete as much levels as possible to beat your records!
Ball Powers
Press Space to use Power when Ball is charged. To charge it, break a brick.
Every Power Use gives a little speed up.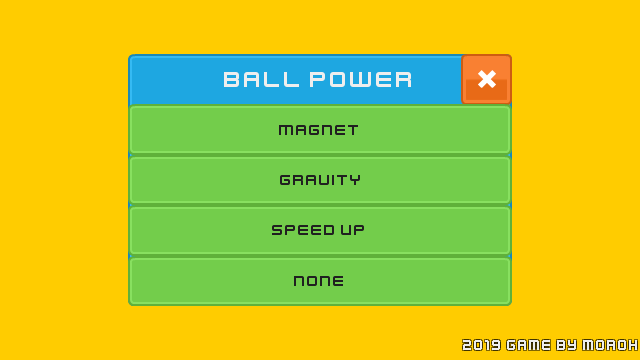 Magnet
Magnetizes Ball to center of the Board. The easiest Power to use.
Complete any mode with it to unlock Gravity.
Gravity
Makes Ball fall directly down. A little tricky to use, but can be helpful in many cases.
Complete any mode with it to unlock Speed Up.
Speed Up
Doesn't change direction of the Ball, but speeds it up more than other balls.(On use and on red Board zone bump)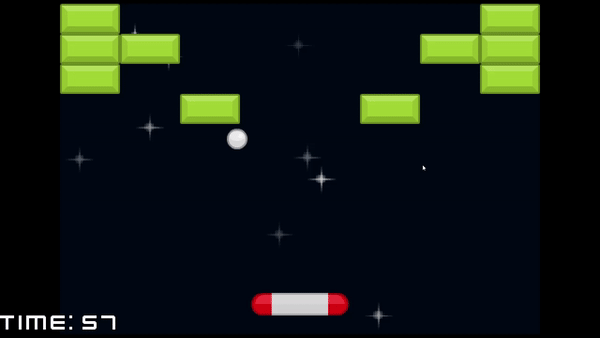 None
You can play without Ball Power.
Unlocked at start. Complete any mode to unlock first locked Power.
Offtop
My first fully completed game after some time of Unity experience. Made in 2 weeks with no budget.
Have fun!
Download
Click download now to get access to the following files: